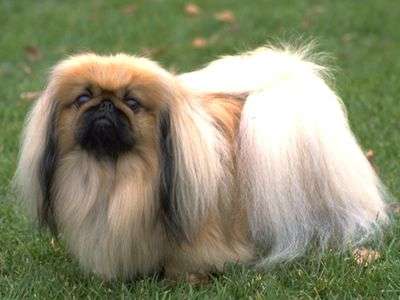 The Pekingese is a popular lap dog, because of its size and character. The Pekingese was first seen in China, and was taken to Europe by the Britains in the 19th century. According to legend, the Pekingese remained steadfastly at Buddha's side. The harmless small dog converted into a lion, if there was any danger. Because of this a lot of people still call this dog the "Bag-Lion".
The Pegingese is classificated in group 9, companion and toy dogs, according to FCI. Especially in section 8, number 207 Pekingeses and Japanese spaniels.
Charakter and Temperament
The Pekingese unite vigilance and self-confidence with devotion. It is a faithful small dog, but treats strangers with arrogance and distance. Because of its bold character, the Pekingese is a quite willful dog, which needs a lot of attention from its owner.
It is very important for the Pekingese's obstinacy, that it gets to know other dogs. The Pekingese has to learn to edge down sometimes.
The Pekingese does not play a lot. It is a intelligent, selfconfident, brave dog, which is also devoted and cuddly. Because of its character the Pekingese is a perfect family dog. This breed has a strong affection to his owner/s.

Physique
The Pekingese has a small, balanced and compact body, which should weight maximum 5.4 kg and should be about 20 cm high. Representative for this breed is the relatively big head with foregoing big eyes, the short nose and the flat face profile. Their faces are pigmented black.
Its tail is high appointed and curved, so that its hair is like a pompom. Pekingeses have thick, long, straight hair in all colours. Their hair is quite hard. This needs a lot of care, so that it is important to comb the hair many times a day.

Education:
The Pekingese loves to be treated like a king. This breed loves to be the centre of attention. Because of this, it is quite easy to comb its hair.
To teach him a command, the owner has to be a very patient and consequent person. The Pekingese is a quite willful dog, so it sometimes could be difficult. The education works well, when the Pekingese understands, who the owner and the top dog is. If it does not understand this, it could also have an aggressive behaviour.

Required Traits for Showing:
The Standard of 2009/2010 claimes, that Pekingeses have to have a big head with not too big eyes and a short nose. The dog's muzzle has to be visible, but it can be short and broad.
There are no health problemes, especially with the airways or the paws allowed.

Distinctions:
Especially the big, foregoing eyes can cause a health problem. They are easily irrited and become infected. Also the short nose can cause a problem. The airways can be related. Because of that a lot of Pekingeses, even young dogs, become deseased by asthma.
The owner has to comb the Pekingese's hair many times a day, to avoid tangles.
The life expectancy is about 12 to 15 years.
Momentálne tu nie sú žiadne psy tohoto plemena.
Čítať ďalej
K tomuto plemenu nie sú priradení žiadni chovatelia!